You are here
Rabbit & Bear: Attack of the Snack (Hardcover)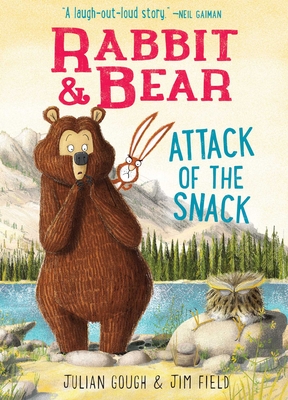 $9.99
Email or call for price
Other Books in Series
This is book number 3 in the Rabbit & Bear series.
Description
---
It's time for another Rabbit and Bear adventure!

SPLASH! A Mysterious Thing lands in Rabbit and Bear's peaceful summer lake. Is it exciting or terrifying? Is it a tiny, fluffy owl or a huge, hungry monster? And has Rabbit finally met a creature with worse habits than himself? Rabbit's SURE he can solve this mystery. But when he accidentally turns the Best Day Ever into the Worst Day Ever, he needs Bear's help...

Rabbit and Bear lead readers on a fantastic adventure in this tale of friendship, acceptance, and what you can do with blueberry poop.
About the Author
---
Julian Gough is an award-winning novelist, playwright, poet, musician, and scriptwriter. He was born in London, grew up in Ireland, and now lives in Berlin. Among many other things, Julian wrote the wonderful novel Connect, and the ending to Minecraft, the world's most successful computer game for children of all ages. He likes to drink coffee and steal pigs.

Jim Field is an award-winning illustrator, character designer, and animation director. He grew up in Farnborough, worked in London, and now lives in Paris. His first picture book, Cats Ahoy!, written by Peter Bently, won the Booktrust Roald Dahl Funny Prize. He is perhaps best known for drawing frogs on logs in the bestselling Oi Frog. He likes playing the guitar and drinking coffee.
Praise For…
---
Reviews of Rabbit & Bear: Attack of the Snack
"A wonderfully silly tale that fits important lessons among literal poo humor." —Booklist
 
"Rabbit and Bear: Attack of the Snack is a humorous, touching story that's perfect for new and intermediate readers." —Foreword Reviews
 
"A pointed jab at wanton fearmongering, lightened by a bit of philosophy and rather a lot of gas." —Kirkus
 
Praise for the Rabbit & Bear series:
"Rabbit's Bad Habits is a breath of fresh air in children's fiction, a laugh-out-loud story of rabbit and wolf and bear, of avalanches and snowmen. The sort of story that makes you want to send your children to bed early, so you can read it to them." —Neil Gaiman
 
"Rabbit's Bad Habits should become an instant modern classic. Stands shoulder to shoulder with Pooh and Toad. Cheeky, delightful and hilarious." —Eoin Colfer
 
"A bear's kindness and generosity sweeten a grumpy rabbit's sour outlook in this wintry woodland encounter. Gough aims both high and low. On the one hand, he shows how the peaceable responses of Bear, equanimity unshaken despite discovering that her food stores have disappeared, to Rabbit's rude comments and behavior gradually work a profound change in his character—and on the other, in the course of their exchanges, he has the long-eared lagomorph deliver a clinically explicit, hilariously extended disquisition on why his kind eats its own poo.…Young readers will come away with fresh insights into both poo and peacemaking." (Animal fantasy. 6-8)" —Kirkus, starred review
 
"The lessons here are serious, but the irreverent text is uproariously funny, full of scatological humor and wild postulating. Field's illustrations are the perfect pairing, capturing the wild-eyed panic alongside the sheer adorableness of the characters. A wonderfully silly tale that fits important lessons among literal poo humor." —Emily Graham, Booklist
 
"Whether it's the grisly truth about leporidae eating their poo, the hilarious, touching dynamic between big, gentle Bear and cantankerous, selfish—but not irredeemable—Rabbit, or Jim Field's blue-white, deft and atmospheric images, there's much to love in this splendid little book." —The Guardian
 
"A delight, with super illustrations and a lovely story about friendship." —Independent on Sunday
 
"A laugh-out-loud celebration of friendship, forest life...and poo." —Metro
 
"This beginning chapter book is delightfully weird, hilarious, and tender-hearted!" —Imagination Soup