You are here
In the Shadow of 10,000 Hills (Paperback)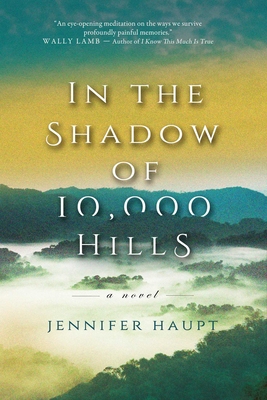 $15.95
Email or call for price
Description
---
"...more than a page-turning narrative; it's an embrace of the Kinyarwanda greeting amahoro--'peace.'"—Oprah.com

An evocative page-turner and an eye-opening meditation on the ways we survive profoundly painful memories and negotiate the complexities of love."—Wally Lamb, author of I Know This Much is True

Finalist – National Reading Group—Great Group Reads 2018
Finalist – Foreword Indies Book of the Year

In 1968, a disillusioned and heartbroken Lillian Carlson left Atlanta after the assassination of Martin Luther King. She found meaning in the hearts of orphaned African children and cobbled together her own small orphanage in the Rift Valley alongside the lush forests of Rwanda.

Three decades later, in New York City, Rachel Shepherd, lost and heartbroken herself, embarks on a journey to find the father who abandoned her as a young child, determined to solve the enigma of Henry Shepherd, a now-famous photographer.

When an online search turns up a clue to his whereabouts, Rachel travels to Rwanda to connect with an unsuspecting and uncooperative Lillian. While Rachel tries to unravel the mystery of her father's disappearance, she finds unexpected allies in an ex-pat doctor running from his past and a young Tutsi woman who lived through a profound experience alongside her father.

Set against the backdrop of a country grieving and trying to heal after a devastating civil war, follow the intertwining stories of three women who discover something unexpected: grace when there can be no forgiveness.

"An intensely beautiful debut."—Library Journal

"Good choice for those seeking tales of hope . . . and it may prove popular with book clubs."—Booklist
About the Author
---
Jennifer Haupt's favorite pastimes are traveling solo and finding new stories of people and cultures, fine-tuning Spotify playlists, walking in the woods with her double-doodle, and playing board games with her husband of 25-plus years and two grown sons.

Her essays and articles have been published in O, The Oprah Magazine, The Rumpus, Psychology Today, Travel & Leisure, The Seattle Times, Spirituality & Health, The Sun, and many other publications. She also writes about creating a blueprint for your book and the how to have a satisfying writing life for Writers Digest, the Hugo House blog and other outlets.

Jennifer Haupt went to Rwanda as a journalist in 2006, a decade after the genocide that wiped out over a million people, to explore the connections between forgiveness and grief. She spent a month travelling in the 10,000 hills with a guide, interviewing genocide survivors and humanitarian aid workers, and came home to Seattle with something unexpected: the bones of a novel. In the Shadow of 10,000 Hills is her first novel.

Her fans call her work "beautiful", "breathtaking" and "a life-altering read".
Praise For…
---
"Jennifer Haupt's In the Shadow of 10,000 Hills is both an evocative page-turner and an eye-opening meditation on the ways we survive profoundly painful memories and negotiate the complexities of love. I was deeply moved by this story." —Wally Lamb, author, I Know This Much Is True 

Finalist - Historical Fiction —Foreword Indies

"This blazingly original novel is about the illusions of love, the way memory can confound or release you, and the knotted threads that make up family—and forgiveness. Profound, powerful, and oh, so, so moving." —Caroline Leavitt, New York Times bestselling author

"There are villains and horrible atrocities with far-reaching effects, but as Haupt examines events through different perspectives, the focus is on healing rather than revenge and anger. This debut novel is a good choice for those seeking tales of hope after adversity, and it may prove popular with book clubs." —Bethany Latham, Booklist

"Jennifer Haupt takes readers on a journey that spans from the turmoil of Civil Rights Era Atlanta to an orphanage in Rwanda born of unspeakable tragedy. Haupt guides both the survivors in this hopeful story that transcends race and cultural differences and readers toward the courage to believe in love again. An important story reminding us that when a crime is unforgivable, only grace will do." —Susan Henderson, Founder,  LitPark blog and author, Up From the Blue

"This astonishing debut novel about an American woman's search for her father in Rwanda knits together intricate, complex stories of love and the destructive forces of society that tear families apart. Haunting and delicately told, Jennifer Haupt enters the heart of Rwanda's darkest hour and shows us where to find the light." —Jessica Keener, author, Strangers In Budapest

"In the Shadow of 10,000 Hills is a beautifully written novel that tells a compelling story." —Steve Yarbrough, author, The Realm of Last Chances

"Exploring themes of grief, abandonment, loss, love, healing, the horror of violence, the barbarism of prejudice, and the complications of family, this novel is a glittering gem." —Dianah Hughley, bookseller, Powell's City of Books


"Whether you're looking for a fulfilling novel, a transporting reading experience, or a great book club discussion book, choose Jennifer Haupt's debut. In the Shadow of 10,000 Hills portrays interweaving journeys in the aftermath of the Rwandan genocide with a sensitivity and universality that make the unbearable bearable." —Tegan Tigani, Queen Anne Book Company, Seattle, WA

"In her debut novel, Jennifer Haupt explores unforgivable crimes and their lasting impacts on disparate lives, tackling a dark time in history with power and grace." —Mira T. Lee, Author, Everything Here is Beautiful

"In her debut novel, Jennifer Haupt explores unforgivable crimes and their lasting impacts on disparate lives, tackling a dark time in history with power and grace." —Mira T. Lee, author of Everything Here is Beautiful