You are here
Start More Than You Can Finish: A Creative Permission Slip to Unleash Your Best Ideas (Hardcover)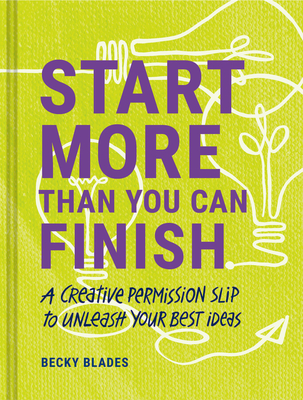 Description
---
Master the art of the start with this new way of thinking, with exercises to help you unleash your ideas and create more.
In
Start More Than You Can Finish
, writer, artist, and entrepreneur Becky Blades offers a powerful new mindset for our modern world: acting on more ideas makes us happier – and reveals our highest creativity. She empowers readers to become "stARTists" – initiators with a bias for action and the courage to ignite ideas and introduces the concept of "stARTistry," spotlighting the 4-step starting process:  
1. Imagine
2. Think
3. Decide
4. Act  
Using digestible data, humorous and honest personal experience, interviews with artists and entrepreneurs, and assignments to help you get started, 
Start More Than You Can Finish
 challenges the tropes our dads, moms, and third-grade teachers told us about finishing. In today's world, we 
must
, in fact, start more than we can finish.  
FOR READERS OF: 
Start
,
Do Work That Matters
,
Show Your Work!
,
Do It For Yourself,
and 
The Creative Curve
A BOOK FOR RISING CREATORS: A plucky non-fiction creative muse, 
Start More Than You Can Finish
 is a guilt-busting pep talk. It's Austin Kleon meets Elizabeth Gilbert and Julia Cameron meets Daniel Pink.  
AN INTRODUCTION TO stARTistry: Get familiar with power of creative initiative and the 4-step process that moves ideas from imagination to action. Reminiscent of NaNoWriMo (
No Plot, No Problem
) and 
Listography
.  
ESTABLISHED AUTHOR: Becky Blades speaks and teaches on the topic of creativity and has written articles for Oprah.com, 
McSweeney's
,
Live Happy,
and others.  
GIFT + SELF PURCHASE: An encouraging gift for a friend, family member, or colleague struggling with their creative confidence, or an empowering gift for yourself – to give you the tools to act on your ideas.  
Perfect for:
Fans of Austin Kleon, Elizabeth Gilbert, Julia Cameron, and Daniel Pink
Creators struggling to begin a new project
Recent graduates embarking on a career of entrepreneurship or the arts
Artists and entrepreneurs looking to build creative courage
Adults searching for creative inspiration
People with passion projects in mind who might not know how to start
About the Author
---
Becky Blades is a writer, artist, and consultant living in Kansas City, MO. Blades wrote and illustrated Do Your Laundry or You'll Die Alone: AdviceYour Mom Would Give If She Thought You Were Listening, which was named a Best Book of 2014 by Kirkus.
Praise For…
---
"The message is clear: The power is in the ignition. Start More Than You Can Finish unpacks inspiring truth about creating." —Jason Kander, author of Outside the Wire and Invisible Storm: A Soldier's Memoir of Politics and PTSD

"A buoyant guide to beginning things—and a liberating reminder that they don't all need to get done. If you've ever hesitated to launch an idea or a project, this book could be the fuel you need." —Adam Grant, #1 New York Times bestselling author of Think Again and host of the TED podcast WorkLife

"Every hit you can name likely started as something much different. Start More Than You Can Finish is your key to discovering that life-changing thing you were meant to do." —John Jantsch, bestselling author of Duct Tape Marketing, The Ultimate Marketing Engine, and The Self-Reliant Entrepreneur

"Start More Than You Can Finish reveals a surprisingly productive mindset: No matter how uncertain we might be about the finish, we flourish by acting on our ideas right away and trusting the creative process. This book will inspire you to get started already!" —Scott Barry Kaufman, host of The Psychology Podcast; author of Transcend; founder, Center for Human Potential

"Becky Blades is a creative force with the answers to all your excuses. I do whatever she tells me to do, and you should, too. Start More Than You Can Finish will have you starting things that scare you and wondering what took you so long." —Jen Mann, New York Times bestselling author of People I Want to Punch in the Throat and MidLife Bites?

"The journey of a thousand miles begins with a single . . . book! And this is it. A delightful and spirited defense of the notion that doing is more important than being done." —Daniel Gilbert, Edgar Pierce Professor of Psychology, Harvard University; author of the New York Times bestseller Stumbling on Happiness; host of the PBS television series This Emotional Life

"We all reach turning points in life where we feel called to begin anew, to reinvent ourselves for the next stage. Start More Than You Can Finish gives us a permission slip to seize these moments joyfully, fearlessly." —Mary Dell Harrington, coauthor of Grown Flown: How to Support Your Teen, Stay Close as a Family, and Raise Independent Adults, and cofounder of Grown Flown

"A joyous corrective to all the nay-saying voices in your life—and more importantly, the ones in your head. Becky Blades is your wise and funny guide through the rough terrain of creative work. If you've ever wanted a bit of cheerleading as you faced down your artistic bugbears, this is for you. It's definitely for me!" —Emily Flake, humorist and cartoonist for the New Yorker, author of That Was Awkward and Mama Tried

"Writing books takes courage, but if you ask for help getting started, you can do almost anything. (Becky let me paint with a mop on a refrigerator box.)" —True Kander (age 8), coauthor of Courage Is . . .

"Almost anybody interested in getting more done will find great ideas here. Simply the most important new book on productivity I have seen." —Henry DeVries, Forbes.com columnist and coauthor of How to Close a Deal Like Warren Buffett

"In the same voice of caring, supportive nurturing that made Do Your Laundry or You'll Die Alone delightful nuggets of chocolate-covered carrots, this book is candy for the soul and nutrition for the mind. A full-meal read that keeps you wanting just one more bite . . . until you're full of creative sparks. Yum!" —Barbara C. Unell, bestselling author of Discipline with Love Limits; founder, Raised with Love and Limits Foundation

"Start More Than You Can Finish is a fresh, fun rallying cry, directing us to be the courageous, curious creators we were meant to be. Becky Blades shows us how our family of stARTists can start more, finish better, and power up the creative process. It confirms that the stARTist's life is the only life for me!" —Diana Kander, entrepreneur, New York Times bestselling author of All In Start Up and The Curiosity Muscle

"Becky Blades, author of the perky, popular advice book Do Your Laundry or You'll Die Alone, has done it again with Start More Than You Can Finish. Her fresh, potent advice: Let's help our young people become unstoppable by showing them how to start—honoring their ideas and initiative . . . reframing their focus on finishing . . . and trusting the creative process." —Lisa Heffernan, New York Times bestselling author of Goldman Sachs: The Culture of Success; coauthor of Grown Flown: How to Support Your Teen, Stay Close as a Family, and Raise Independent Adults; and cofounder of Grown Flown

"Start More Than You Can Finish shows that being an entrepreneur is something that anyone can do--every individual can move from ideas to action, and thus improve their lives and the lives of others around them. Anyone who has thought about starting their own thing should read this book, but so should leaders, educators, and policymakers who want to understand the entrepreneurial mindset." —Victor W. Hwang, founder and CEO, Right to Start; coauthor of The Rainforest: The Secret to Building the Next Silicon Valley?