You are here
Cove (Hardcover)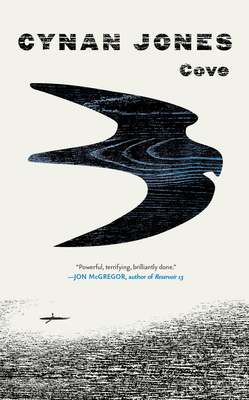 $19.95
Email or call for price
Description
---
"To read Cove is to take a masterclass in taking out everything but the essentials. This is writing stripped back to the bone, and storytelling that gets under the skin. Powerful, terrifying, brilliantly done."—Jon McGregor, author of Reservoir 13

Out at sea, in a sudden storm, a man is struck by lightning. When he wakes, injured and adrift on a kayak, his memory of who he is and how he came to be here is all but shattered. He will need to rely on his instincts, resilience, and imagination to get safely back to the woman he dimly senses is waiting for his return. This is an extraordinary, visceral portrait of a man locked in a struggle with the forces of nature.
About the Author
---
Cynan Jones was born near Aberaeron on the West coast of Wales in 1975. He is the author of five novels: The Long Dry; Everything I Found on the Beach; Bird, Blood, Snow; The Dig; and Cove. His work has been published in more than twenty countries and his short stories have appeared in publications including Granta and The New Yorker. He has won a Betty Trask Award, a Jerwood Fiction Prize, the Wales Book of the Year Fiction Prize, and the 2017 BBC National Short Story Award. He has been longlisted for the Kirkus Prize, the Warwick Prize, and the Europese Literatuurprijs, and short–listed for the Sunday Times EFG Private Bank Short Story Award.
Praise For…
---
A Boston Globe Pick of the Week

"Jones echoes other survival narratives by keeping his narrator's voice internal, but he creates a feeling of desperate solitude with wonderfully sparse language. Lovers of poetry and experimental prose will marvel at this impressionistic lament." —Booklist

"A harrowing tale of resilience. . . . Though brief, the book is immersive in its rich, poetic descriptions of nature . . . and cleverly shifts between second and third person. . . . This is a gripping story with a unique style that reflects the remarkable limits of the human spirit." —Publishers Weekly

"With his fifth short novel, Cynan Jones further establishes himself as a master of the power of less. . . . Jones writes with an attention to detail that dazzles." —Shelf Awareness (starred review)

"[A] beautiful novelette, a tight work that captures the intensity of one man's struggle with himself." ―Read It Forward, A Favorite Read of April 2018

"Cove is sparse and somewhat breezy, and rightly so, as it's a book about a man who has no memory of who he is, and is close to dying in the cove. The language, like the protagonist's energy, is limited and effective. Content and form tightly bound. It's another side of Jones and it certainly excites me to see what will come next." —Vol. 1 Brooklyn

"Cynan Jones is utterly brilliant. The writing in Cove is so delicate and cruel and insightful. I don't understand why no statues have been erected in his honour yet."—Eimear McBride, Times Literary Supplement (UK)

"To read Cove is to take a masterclass in taking out everything but the essentials. This is writing stripped back to the bone, and storytelling that gets under the skin. Powerful, terrifying, brilliantly done." —Jon McGregor, author of Reservoir 13

"I found Cove hypnotically compelling, as exciting as it is meditative, and adored the pared down yet powerful, rippling, sensate writing. A terrific read." —Colin Barrett, author of Young Skins

"A book distilled and elemental even by Jones's standards. It's searing, unflinching, exquisitely written—for me, his best work yet." —Tom Bullough, author of Addlands