You are here
Guardians (Paperback)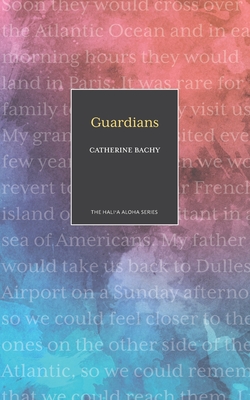 $16.00

On Our Shelves Now
This hard to find book or item is not eligible for returns.
Description
---
Love, like water, is our birthright.
Where is home when you're the daughter of immigrants? When is it safe to say you're gay? Author and poet Catherine Bachy has been traversing cultures all her life. Bicultural and bilingual from birth, she often finds herself in between worlds, sensitive to the sideways looks aimed at families like hers who aren't quite like the others, alert for the subtle cues that affirm, "This is where you belong." In Guardians, Bachy has crafted a compelling collection of lyrical essays that blend the personal, political, and spiritual, piecing together the touchstones that serve as the foundation for her identity.
Bachy's father was an inspiration for writing her book. "He was an artist," she says, "and left us many paintings and drawings, through which we appreciate his vision of the world. He didn't make it to sixty, the age I am turning as Guardians is being published." Reaching sixty felt like an opportune time to share her own creative work and worldview. Pondering the habit she picked up after her father's passing of memorizing and reciting poems, she observes, "These poems that dwell in my mind are my prayers: hope, acceptance, healing, and love. Maybe my father planted them there when he left and now, they have grown into trees."
With detail-rich prose and poetry, Bachy has cultivated a captivating garden of stories in Guardians, tracing themes of love, longing, and belonging that resonate across cultures and generations.