You are here
Middlemarch: Complete (Paperback)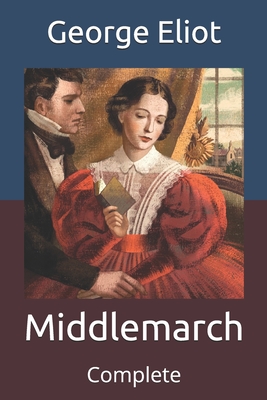 $29.69

Usually Available in 1-5 Days
This hard to find book or item is not eligible for returns.
Description
---
Miss Brooke had that kind of beauty which seems to be thrown into relief by poor dress. Herhand and wrist were so finely formed that she could wear sleeves not less bare of style than those inwhich the Blessed Virgin appeared to Italian painters; and her profile as well as her stature andbearing seemed to gain the more dignity from her plain garments, which by the side of provincialfashion gave her the impressiveness of a fine quotation from the Bible, -or from one of our elderpoets, -in a paragraph of to-day's newspaper. She was usually spoken of as being remarkably clever, but with the addition that her sister Celia had more common-sense. Nevertheless, Celia worescarcely more trimmings; and it was only to close observers that her dress differed from her sister's, and had a shade of coquetry in its arrangements; for Miss Brooke's plain dressing was due to mixedconditions, in most of which her sister shared. The pride of being ladies had something to do with it: the Brooke connections, though not exactly aristocratic, were unquestionably "good: " if youinquired backward for a generation or two, you would not find any yard-measuring or parcel-tyingforefathers-anything lower than an admiral or a clergyman; and there was even an ancestordiscernible as a Puritan gentleman who served under Cromwell, but afterwards conformed, andmanaged to come out of all political troubles as the proprietor of a respectable family estate. Youngwomen of such birth, living in a quiet country-house, and attending a village church hardly largerthan a parlor, naturally regarded frippery as the ambition of a huckster's daughter. Then there waswell-bred economy, which in those days made show in dress the first item to be deducted from, when any margin was required for expenses more distinctive of rank. Such reasons would have beenenough to account for plain dress, quite apart from religious feeling; but in Miss Brooke's case, religion alone would have determined it; and Celia mildly acquiesced in all her sister's sentiments, only infusing them with that common-sense which is able to accept momentous doctrines withoutany eccentric a.