Thursday, February 9, 2023 -

6:00pm

to

7:00pm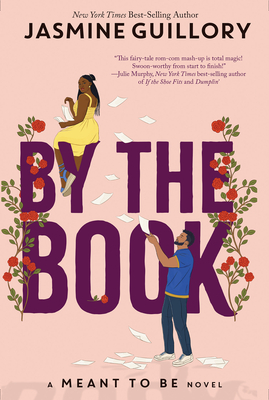 Join us for cozy (virtual) evenings with Lori Robinson, knitting and discussing whatever book assigned. There will be tea, the clacking of needles, and silence when troublesome parts of patterns interrupt conversation. On February 9th we are reading By the Book by Jasmine Guillory. All levels of knitters (and crafters) are welcome!
Description
---
"By The Book is in my hands and I could not be any more excited to celebrate it! Jasmine is on a short list of my tried and true comfort-read authors. I don't know how she manages to weave such depth into her characters while still making the whole reading experience feel SO GOOD AND NICE but she does, every single time."
—Emily Henry, #1 New York Times bestselling author of People We Meet on Vacation and Beach Read

Accolades

USA Today Bestseller
An Amazon Book of the Month
An Amazon Best Book of 2022
An Apple Best Book of 2022
The Root Books We Can't Wait to Read
Bustle Most Anticipated Book
Buzzfeed Best Book
Harper's Bazaar Best Romantic Books of 2022

Sometimes to truly know a person, you have to read between the lines.

Isabelle is completely lost. When she first began her career in publishing after college, she did not expect to be twenty-five, still living at home, and one of the few Black employees at her publishing house. Overworked and underpaid, constantly torn between speaking up or stifling herself, Izzy thinks there must be more to this publishing life. So when she overhears her boss complaining about a beastly high-profile author who has failed to deliver his long-awaited manuscript, Isabelle sees an opportunity to finally get the promotion she deserves.

All she has to do is go to the author's Santa Barbara mansion and give him a pep talk or three. How hard could it be?

But Izzy quickly finds out she is in over her head. Beau Towers is not some celebrity lightweight writing a tell-all memoir. He is jaded and withdrawn and—it turns out—just as lost as Izzy. But despite his standoffishness, Izzy needs Beau to deliver, and with her encouragement, his story begins to spill onto the page. They soon discover they have more in common than either of them expected, and as their deadline nears, Izzy and Beau begin to realize there may be something there that wasn't there before.

Best-selling author Jasmine Guillory's achingly romantic reimagining of a classic is a tale as old as time . . . for a new generation.
Event address:
https://us02web.zoom.us/meeting/register/tZAsduuvrDIpGN2E-27MibhFeDu68i5My8K9
Books:

$15.99

ISBN: 9781368053389
Availability: On Our Shelves Now
Published: Hyperion Avenue - May 3rd, 2022
---